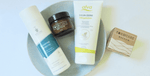 Liv from puraliv.com
In the summer I applied the balm to dry, flaky areas of skin on my face (my skin reacts quickly to sun protection) and these subsided within a few days. Now in autumn I really like to use the balm for lip and nail care and sometimes also rich eye cream, because of course I couldn't leave it with one application on the shoulder blade;). In winter it will be used as a cold cream, because the jar is still more than half full, the balm is so rich. The balm smells very delicate, a bit powdery and slightly like coconut, but not strong and certainly not too much like shea butter. It's slightly grainy, but that's normal for a product with a lot of shea butter. It melts on the skin, is easy to distribute and leaves a greasy film. It is particularly suitable for the targeted care of small areas of skin such as wounds, scars or dry areas. In addition to shea butter and coconut oil, it also contains evening primrose oil and the natural vitamin E extract from the palm fruit. Only vanilla is used for scenting.
My name is Shenja. I am 28 years old and love to deal with the inside of products.